Temporary structures and marquee hire
Bees Marquees design and build bespoke temporary structures, providing
short or long-term solutions for warehousing and operational needs, across retail, logistics, transport, and military operations.
We have considerable experience in the purchase, lease, and rental of such temporary structures, having matched the needs of companies such as; BAE, Macfarlane Group, Veolia, Polypipe, English Provender Company.
We are also one of the UK's leading suppliers of sports hall facilities to schools and colleges, nationwide.
We can design, deliver, install, and maintain temporary structures up to 60m in span, 8m side height, and in a variety of robust designs that make ideal and quick solutions for manufacturing or production areas, warehousing and distribution, workshops, staff facilities.
Not only that, but our technical experts are instantly available, 24 hours, and we never sub-contract our work, so you always deal with Bees Marquees directly: no-one else.
And far from being a necessity, whilst a more permanent structure is built, Bees' temporary structures come with significant advantages;
They can be easily fixed to existing floor, whether concrete, tarmac or hardcore.
They utilise the existing space: Bees create site-specific sizes, made to order.
They're easy to relocate – as a whole or in parts.
It's possible to create multi-span structures: interlinking buildings.
They can be standard or insulated structures – your choice.
They're safe and strong, able to withstand worst case UK weather.
Despite being temporary, they can easily be up for 10 years or more.
Planning permission requirements are the same, but the cost is significantly lower.
We offer a free consultation when you contact us, and conduct a detailed site requirements analysis before embarking on the best solution for your temporary structure.
Please feel free to look at our industrial picture gallery, to see what we can do, and give us a call on: 07777 777000 or fill in our contact form, to make an initial enquiry.
Here are some of the temporary structures we provide;
Case Study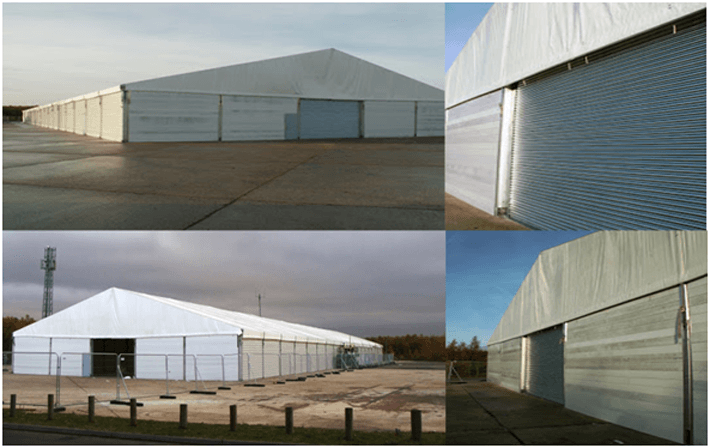 Brief: to provide a temporary warehouse, for 2-3 years, while client had a new, permanent warehouse and production plant built: no interruption in trading.
Light goods vehicles needed easy access on site, and three separate zones were requested, within the structure, for pre-production, product storage, and vehicle loading.
Bees' Solution: a 25m x 95m span frame structure, with; cladded PVC panel sides, PVC roof, partitions and doors between zones, and full-height metal roller doors for vehicle access.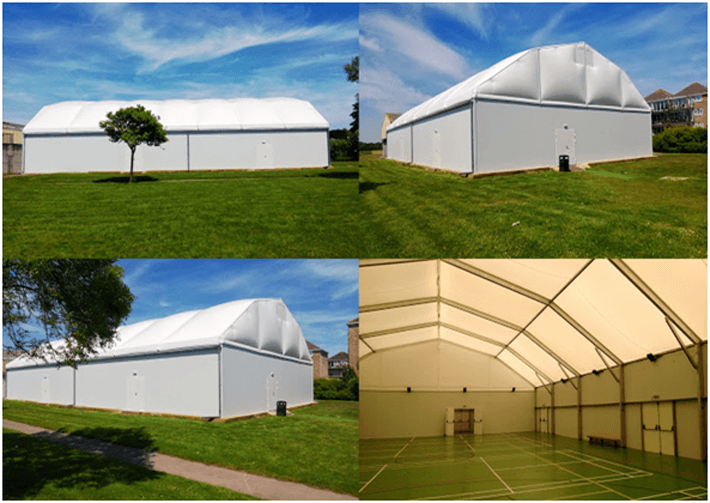 Brief: a school sports hall – built nearly 50 years ago – began to deteriorate to point where it was no longer deemed safe for use. Plans had been made for a new building, but planning permission was still being considered, so Bees were commissioned to provide a temporary sports hall, to last up to two years.
Solution: A 20m x 35m polygon roof structure with; Thermo inflated PVC roof, insulated walls, timber floor with non-slip vinyl surface, internal partition, changing rooms, lighting and heating, power points.
GET A QUICK QUOTE
---
Bees Structures can be modifed to suit any individual need, perhaps a servicing area for vehicles, or a temporary showroom with all round access, ensuring an efficient environment in which to work. We can even install next to permanent facilities, on car-parks, or even inside for internal operations. Get your bespoke quote now.
Please feel free to look at our industrial picture gallery, to see what we can do, and give us a call on: 07777 777000 or fill in our contact form, to make an initial enquiry.
FACEBOOK
TWITTER
VIEW INDUSTRIAL STRUCTURE